Welkom op de website van Manon Bosch.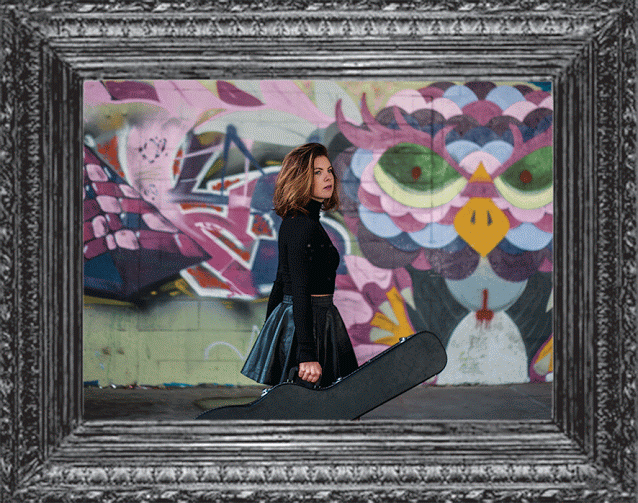 Ik ben verslaafd aan muziek, ik vind namelijk dat je met muziek alle gevoelens kan uiten. Denk aan het verliefd zijn, denk aan het verdrietig zijn en denk aan je frustraties. Oké, ik ga te snel. Ik ben Manon Bosch en ben twintig jaar. Ik kom uit het dorpje Den Ham waar ik ben opgegroeid en volwassen ben geworden.
Ieder meisje houd natuurlijk van dansen en zingen en iedereen droomt er van om beroemd te worden als je tien jaar oud bent. Maar nu ik volwassen ben, merk ik dat beroemd worden voor mij niet heel erg veel waarde heeft. Het is namelijk niet zo dat ik muziek maak omdat ik beroemd wil worden. Nee, het zit zo..
Toen ik een schattig klein meisje was van veertien, was ik nog erg verlegen en begon ik met optreden. Ik stapte op het podium op school en zong Fifteen van Taylor Swift. Dat was het moment waar ik besefte dat wanneer ik een gitaar om mijn nek had hangen, ik de hele wereld aan kon, ik kon namelijk echt iemand zijn op dat moment. Voor het eerst wist ik dat ik ergens goed in was en durfde dit ook te laten zien. Oké, dit was de start en nu gaan we verder.
Twintig jaar oud, het tienerleven heb ik dit jaar achter me gelaten en ik ben klaar voor de grote stap; alles uit mijn leven halen wat er in zit. En met alles, bedoel ik ook echt ALLES.
Ik hou van zingen, ik hou van grapjes, ik hou van wijn, ik hou van gezellige avonden in kleine kroegjes waar je met iedereen kan praten, ik hou van gezellige mensen, ik hou van lieve mensen en ik hou van eerlijke mensen. Ik hou er van om van alles te houden waar ik gelukkig van wordt. Maar waar ik het meest van houd is mensen blij maken met mijn muziek. Oké stel je voor.. Je zit in een kroeg, je hebt jezelf net een lekker biertje besteld of een heerlijk wijntje (of allebei ;)) op de achtergrond hoor je een meisje met een accent, want ja dat heb je toch echt als je uit Twente komt. Terwijl ze op haar gitaar speelt, kondigt ze haar liedje aan. Je nipt van je glas en hoort een voor jou onbekend lied, maar wanneer ze bij het refrein komt, herken je dit toch opeens. Je hoort je vrouw tegen je zeggen: 'Maar dit is toch dat lied van dat lekkere ding? Uh je weet wel.. Jon Bon Jovi?' en opeens voel je je minderwaardig en nip je nog sneller aan je glas bier.. Nee grapje. Je zingt mee uit volle borst en applaudisseert. Tenminste, ik hoop dat je dat doet. Maar als je het niet doet, maakt het ook niet uit. Het gaat mij niet om hoeveel mensen er met me mee zingen, het gaat er niet om hoeveel mensen er überhaupt zijn. Als er maar één iemand is die het mooi vond, ben ik tevreden. Blij. Heel blij zelfs.
Maar goed, er staat niet alleen groot 'Manon Bosch', maar ook 'Singer Songwriter'. Het stukje schrijven is een belangrijk iets voor mij geworden. Ik vind het fantastisch om mijn eigen gevoel op papier te schrijven, maar tegelijkertijd vind ik het DOODENG. Waarom? Mijn gevoel is een stukje van mij, een stukje van mij wat ik vertel in een lied, een lied wat is gebaseerd op een momentopname en dat lied zing ik met mijn ogen dicht. Mijn ogen dicht omdat ik doodsbang ben dat mensen weten over wie het gaat, doodsbang omdat ik denk dat ze me raar vinden of doodbang omdat ik wel in mijn broek kan plassen van angst en dat er raar uit zou zien op het podium. Schrijven is belangrijk, maar ook moeilijk. Maar zolang je dicht bij jezelf blijft is alles goed.
Één ding is zeker; 2016 wordt mijn jaar. Het wordt een jaar met veel muziek. Veel liefde. Vast wat tranen. Lieve mensen die ik mag ontmoeten en lieve mensen die ik kan knuffelen omdat ze gewoon, nou ja, aardig zijn?
Wat ik jullie mee wil geven? Durf te dromen en durf groot te denken. Het maakt niet uit als het nooit uit zou komen, maar dat kleine beetje hoop waar jij je aan vast klemt is goed. Het maakt je een beter mens die sterker is dan alle anderen. Je bent mooi van je zelf. Je bent mooi om wie je bent en je bent mooi om wat je doet. En nee, het is niet altijd even makkelijk. En mensen doen je vaak laten geloven dat hun leven mooier is dan dat van jou. Maar geloof me, ik ben net als jou. Ik ben ook een meisje van twintig. Misschien ben ik jonger, misschien wat ouder, maar ik heb net als jou ook een droom. En dat is een droom waaraan ik mij vasthoud. Elke dag. Omdat alleen die gedachte al, mij het gelukkigste meisje op aarde maakt..
You are your own definition of beautiful and worth while.
(Oké, Taylor, deze jat ik van je, ik maak het goed)
Ik hoop jullie snel te zien,
Liefs en misschien een knuffel. Oké, knuffel.
Manon